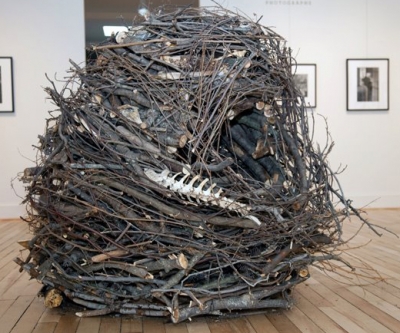 Nest . Autumn Winter 2012
The Nest deals with isolation and hibernation. It's about the animal instinct to burrow and hide away, which is simultaneously comfortable and claustrophobic. Our nest is our home and the walls we build around ourselves, which keep us exquisitely safe but also still and imprisoned. We are continuously building up our nests for shelter and security while that same protective structure becomes a cage that we've created around ourselves. Even our own bones and skeletons become little cages that we can keep so many treasures inside, trapping and stunting them and protecting them.
The fabrics and silhouettes reference the natural skins and warm furs that we shelter ourselves with; the structures we painstakingly build out of bricks and wood; the dichotomy of the leaf and the feather, the branch and the bone, the nest and the cage. The female form is followed closely, being hugged and protected by her garments, with gentle folds of fabric allowing generous space for her to hide away. Only natural fibers are used: wool, leather, shearling, silk, cotton, and feathers. The prints have been organically developed around each piece and screen printed by hand.
Nest, Angela Bacskocky's debut collection, was the collaborative effort of several artists and designers attempting to merge the lines between fashion and fine art. All of the pieces were handmade, in limited edition, at our Richmond, VA studio.